Ford Expedition
The Ford Expedition is a full-size SUV built by the Ford Motor Company. Introduced in 1997 as a replacement to the Ford Bronco, it was previously slotted between the smaller Ford Explorer and the larger Ford Excursion, but as of the 2005 model year, it is Ford's largest and last truck-based, off-road and tow capable SUV. Ford currently offers the standard regular-sized model and the larger EL/Max model, succeeding the Excursion which was discontinued in 2005. It is the second Ford vehicle to use the Expedition name, as it was part of the Explorer Sport's trim models during the 1995 model year. All Expeditions were originally built in Wayne, Michigan. In 2009, Ford shifted its current third generation (2007–present) model production to Louisville, Kentucky when Ford converted the Wayne assembly plant to begin further production of the Focus.
Ford Expedition Interior
The Expedition offered up to nine passenger seating in model years before 2007 (with a front bench seat option); 2007–present offer 2 bucket seats in the first row. It is equipped with a V8 engine. It is similar to the Lincoln Navigator, especially for the 2007–present model in Limited or King Ranch high end trims; both of which were introduced for the 2005 model year. With the 2011 model year Ford made changes in the base level department, with the newly designated XL trim a standard and upgrading the XLT to second level and replacing the Eddie Bauer trim that was phased out from the entire Ford vehicle lineup. Over 1,500,000 Expeditions have been sold since its introduction. A specially modified Special Service Vehicle version is also available from Ford for law enforcement agencies, fire departments, and EMS agencies.
Ford Expedition Tuning
The standard size Expedition are sold in the United States, Canada, Mexico, the U.S. territories of Puerto Rico, American Samoa, the CMNI, U.S. Virgin Islands, and Guam, the Philippines, the Middle East, Central America, the Caribbean, South America (except Argentina, Brazil and Venezuela), Asia (Cambodia, Laos, Mongolia and South Korea), Africa (Algeria, Angola, Cape Verde, Egypt, Gabon, Ghana, Libya, Madagascar, Morocco, Nigeria and Senegal), and Europe (Armenia, Kazakhstan, and Kyrgystan).
For the Expedition EL/Max, all five versions (XL, XLT/Eddie Bauer, XLT Platinum, Limited and King Ranch) are available in the United States. From the 2007 to 2010 model years, The EL/Max level trims were limited to only 3 versions for Canada and The Middle East, two for Mexico, and one for the Philippines. Canada's Expedition Max offered the Eddie Bauer, Limited and King Ranch trims, Mexico's Expedition Max in Limited and King Ranch trims, and the Middle East's EL level trims in XLT, Eddie Bauer and Limited. The Philippines' lone Expedition EL level trim was the Eddie Bauer model from 2007 to 2010. After the 2011 model year Ford made changes in the international exportation of the EL/Max trims. As a result of the changes, the Limited trim became the only version available in Canada and Mexico as Eddie Bauer (in Canada) and King Ranch trims (in both Canada and Mexico) were discontinued, while the Philippines and the Middle East replaced the Eddie Bauer with the XLT trim. The Middle East also started to get all of the 5 US level base trims, including the new XL trims that took the XLT's place and the King Ranch trim.
2011 Ford Expedition
Expeditions equipped with the heavy-duty trailer tow package are prepped and readied for towing at the factory. The package includes a heavy-duty V-5 rated Class IV trailer hitch with weight distribution capability, heavy-duty radiator, heavy-duty auxiliary transmission fluid cooler, hitch mounted 4 and 7-pin trailer electrics connector and factory prewiring for an electronic trailer brake controller module. The brake controller wiring harness is located under the dash on the driver's side for easy installment of the brake controller module.
Expeditions are also offered with an adaptive electronically controlled pneumatic suspension system with self leveling, payload leveling and trailer load leveling capability. The pneumatic suspension can automatically detect when a heavy trailer is coupled, such as a travel trailer, and level the load. Additional sensors placed on the left and right sides of the SUV also monitor and compensate for any listing caused by improper cargo loading. This keeps the Expedition running straight and level while towing, and at night helps to keep the Expedition's headlamps from blinding oncoming traffic.
As of the 2010 model year, the Expedition received trailer sway control (TSC) as standard equipment. TSC builds off of the AdvanceTrac traction & stability control system to detect trailer oscillations and corrects it via asymmetrical breaking and reducing engine power until the Expedition and its trailer are both back under control.
The Ford Expedition
To compete with large police SUVs that are sold by other automobile companies, primarily the Chevrolet Suburban, Ford has made a special version of the Expedition that's only available to law enforcement agencies, fire departments, and EMS agencies. Ford calls it the Expedition Special Service Vehicle (SSV). The only differences between the standard Expedition and the Special Service Vehicle Expedition are provisions for emergency services related equipment such as radios, lightbars and sirens. There are also options designated fleet only such as custom two-tone paint arrangements that are available to the Expedition Special Service Vehicle.
2010 Ford Expedition Photo
Available luxury features include: Premium Audiophile sound system with in dash six-disc CD changer, rear subwoofer, MP3 device and iPod connectivity, SIRIUS XM satellite radio, HomeLink wireless control system, tri zone automatic climate control for driver, first passenger and rear passengers, PowerFold power stow away side-view mirrors, PowerFold power fold flat third-row seating, Gentex auto-dimming rear view mirror, adaptive pneumatic suspension system, power adjustable pedals, ultrasonic park assist, perforated leather seating, climate-controlled heated and cooled front captain's chairs with 10-way power adjust and memory, second-row captain's chair luxury seating, DVD-based voice activated navigation system with liquid crystal touch display, power moon roof, slimline rear DVD-based entertainment system with flip down LCD screen, power-assisted liftgate and 20-inch chrome-clad aluminium six-spoke wheels with Pirelli Scorpion all-season tires. Some of these features are available on Expedition XLT; many of them are included on Expedition Eddie Bauer and Expedition Limited.

Upgraded premium perforated leather seating, wood and leather-wrapped steering wheel with audio, climate and cruise controls, interior ebony wood trim, stylized blacked-out stepped-style multifaceted headlamps and monochromatic paint finish with body-colored grille and chrome accenting are standard on the high end Expedition Limited.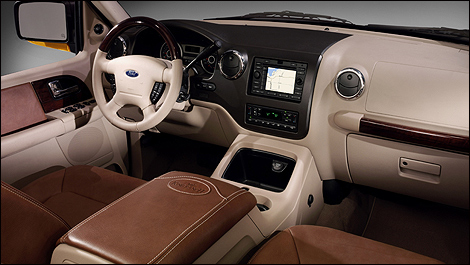 2006 Ford Expedition Interior
Also called Expedition Max
Production 2007–present
Assembly (2007–2009): Wayne, Michigan, U.S.
(2009–present): Louisville, Kentucky, U.S.
Platform Ford T1 platform
Engine 5.4 L Triton V8
Transmission 6-speed 6R75 automatic
6-speed 6R80 automatic
Transfer case (4×4 models)
2-speed BorgWarner 4417
High range ratio: 1.00:1
Low range ratio: 2.64:1
Wheelbase 131.0 in (3,327 mm)
Length 221.3 in (5,621 mm)
Width 78.8 in (2,002 mm)
Height EL/Max: 77.7 in (1,974 mm)
Eddie Bauer (2007-10)/XLT (2011–present): 78.3 in (1,989 mm)
Related Lincoln Navigator L
Ford Expedition Lifted